Hello everyone, I'm Lauren from
Sewing Me, Sewing You
. I thought I'd drop by to post some ideas I want to work on for Christmas prezzies - so far they are only ideas and I haven't actually got round to starting any of them.
The first one is papercutting. I saw an article in the Guardian about
Rob Ryan
and fell in love with what he does. I'd like to try my hand at paper cutting, though with a much simpler design than his which are like this...
I also like this from
Green Chair Press blog
...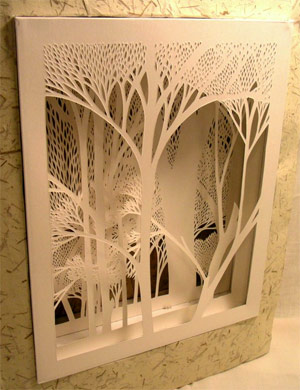 The second idea was to create a set of personalised postcards, by buying plain blank ones and drawing, stencilling or decorating the postcards while leaving the address/message side blank for the recipient of the present to use, thus spreading the joy to others!
I'll post some pics if I manage to do either!